It was 12:04 pm. I stumbled my way to the kitchen looking for an afternoon pick me up… I reach for the almost empty bag, rummaged through the fridge and then hit the on button. With my mug ready, the smell of fresh Starbucks coffee beans grind into a fine powder and the water began to steam. With the caramel, chocolate and vanilla syrup standing by, I was only minutes away from what was to become my own personal little piece of heaven.
Or so I thought…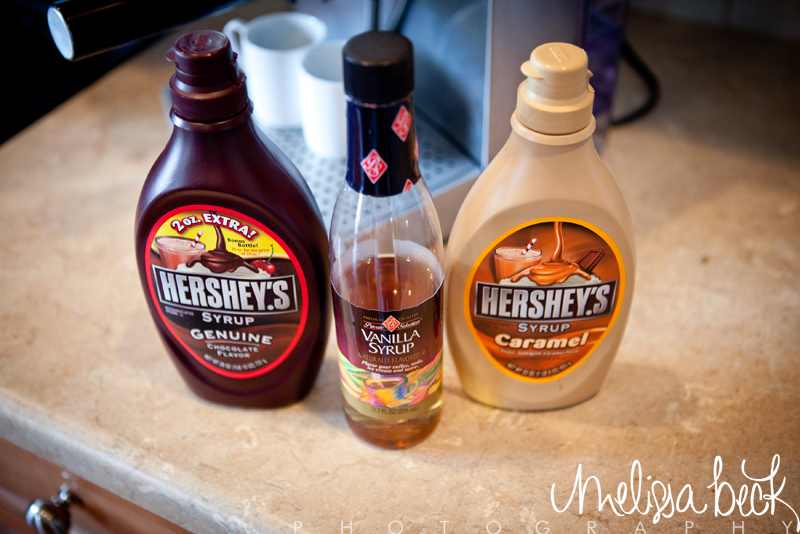 I begin to hear sputtering on a step that should sound like that 'little piece of heaven' pouring into the espresso mug. Looking over I realize that my lightly packed freshly ground coffee beans are just that… Lightly packed. Dang it! Instead of a delishious cup of yumminess, I have a watered down murky little cup of sludge.
I pause… Annoyed but I can see the reward. All that is standing between myself and my cup of love is a dose of correctly tamping the grounds. I can do this. I do, do this! All the time, so what's the problem today…?
Okay. Round two. Grind beans. Pack. Hit button. Listen for steam. Wait for the light… Waiting… Waiting… Hit one shot button. Vola! Allllllmost there. WAIT. That's not right either. Apparently I got a little carried away on packing and tamping this time around. Too tight=another sludgy mess.
COME ON! (And yes, I most definalty hollered this out loud.) I slowly am beginning to realize that the coffee gods are not on my side today. Note to self: As annoyed as one may become, do not, (and I repeat do not) get mad and pull out the handle while still under pressure and full of hot sloppy coffee grinds.
This is what you will get. And let me tell you… This is so much further away than I wanted to be from my mid day, little slice of heaven, cup of love, pick me up! You have got to be kidding me. With the dog at my feet wondering what I was yelling at and Lila staring at me like I am insane, I grab a sponge and begin to soak up the disaster of a mess I have created.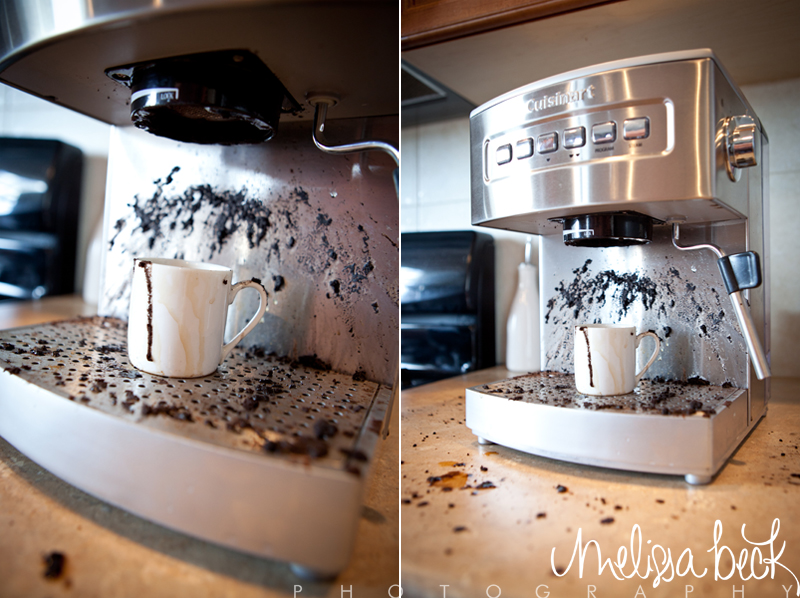 I am beginning to convince myself it has to be this stupid machine, it can't possibly be operator error… Can it?
Okay. Mr. Espresso. It's you and me. I re-steam the milk. Because of course, it's now barely luke warm…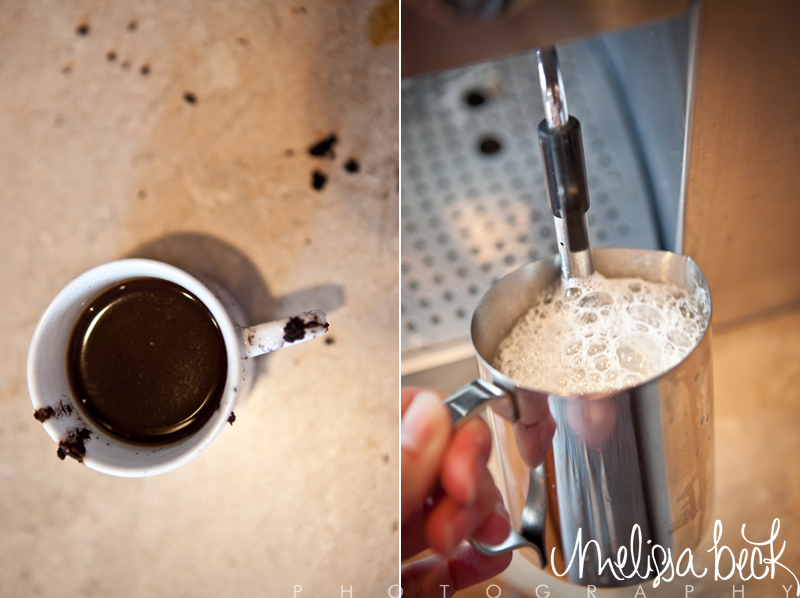 With a look of determination in my eyes, I go back to grinding and tamping. Again.
I WILL get my cup of love. My cup of caramely, chocolatey, vanilla, goodness. And it will be wonderful . It will have an amazing layer of froth. And it will be strong. Because with this, I decide this is it. Sink or swim. This bad boy is going to have two shots in it. It will! Won't it?
YES. And it does! Finally!!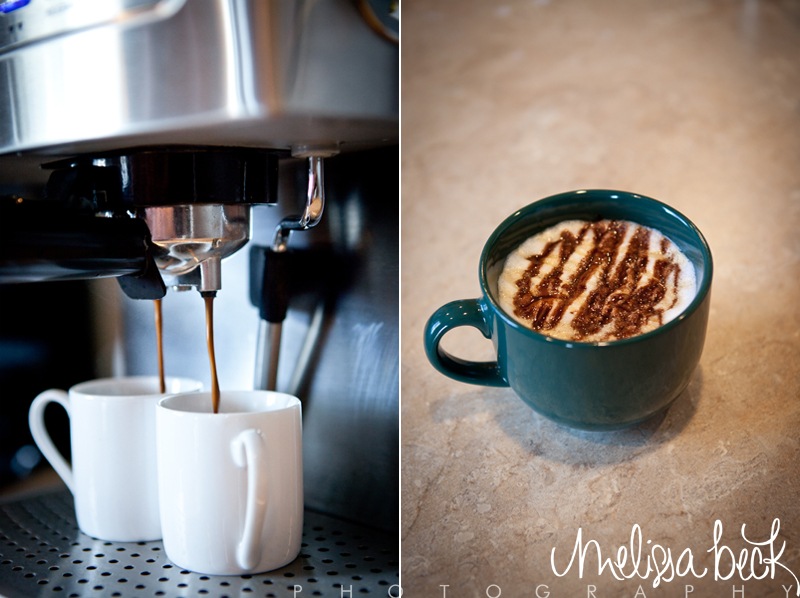 And it was just that. Wonderful. Was it worth the wait? Debatable, but it was perfect just the same.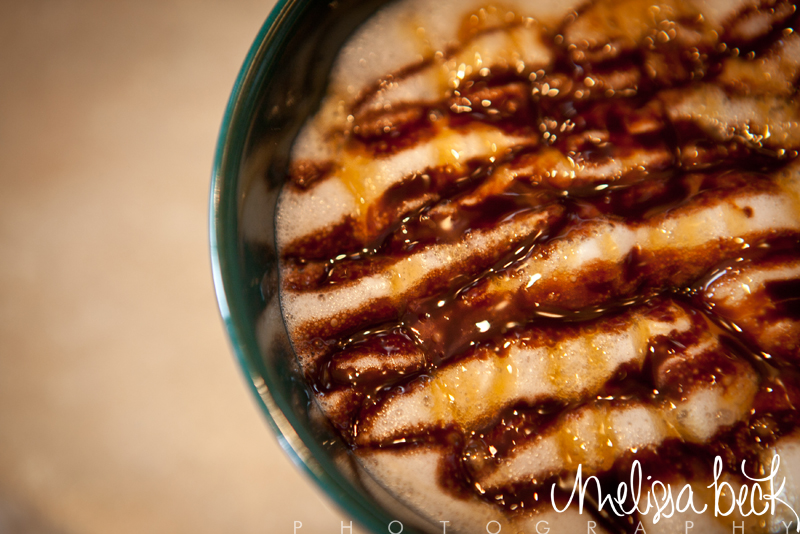 So in your days of frustration remember perseverance. Remember what you are waiting for is just around the corner. Remember that you are supposed to dream big. That life is only a big as the pond you allow yourself to live in. And trust that it may take some treading water before you can swim across the ocean.
All this from two failed attempts and a giant mess from brewing a shot of espresso? Maybe. Maybe not. But if this is what I got from my annoying afternoon of failed espresso shot attempts, then bring it on Mr. Espresso. Apparently, today you did give me a cup of heaven and even the mid day pick me up I was hunting for. Possibly in the form of an extra espresso shot, possibly in the form of perseverance. Either way, it made my day.
And for those of you looking to avoid a mess like I had. I found this. Let's face it, I am new to the art of tamping and espresso making. I obviously need all the help I can get. With that, after reading about the 'art of tamping' I bought these.

Melissa Beck
is a professional Wedding Photographer and Engagement Photographer who has been
featured
on several blogs and publications.
Melissa Beck Photography
is a Wedding Photography Studio specializing in Modern Wedding and Engagement photos in Maine, New England, Kennebunk, Portland, Freeport, Falmouth, Yarmouth, Cape Elizabeth, Denver,Colorado and the Rocky Mountains.
Contact
Melissa Beck Photography to be your Maine and Colorado Wedding Photographer today.