I am
thrilled
to announce:   Melissa Beck Photography has been selected as a winner of the 2012 
Two Bright Lights Editors' Choice Awards!

This award is given in recognition of the those whose number of published features in 2011 placed them among the top 5% of all Two Bright Lights members. Winners were published across many of the most respected lifestyle, wedding and other print and digital publications in the United States and worldwide. By submitting their authentic, stunning imagery and services directly to the top industry publications and editors, the Editors' Choice winners represent the best-of-the-best.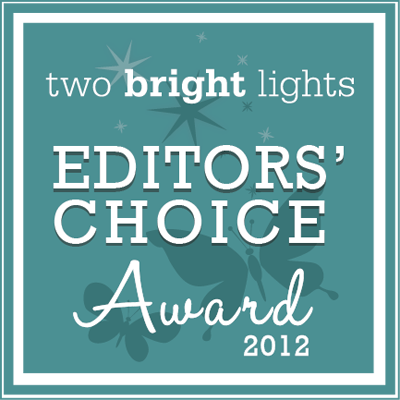 What an amazing email to wake up to! In all honestly, it is all made possible by you guys… Our brides and followers. We just feel so lucky to be able to capture your love and weddings. It is all of the thought, planning, time and dedication you as MBP brides pour into your weddings that allow us to submit your images for publication. It seriously makes my day to see your lovely faces and amazing weddings getting accepted and featured. Little ol' MBP. Rocking it out in 2012!   Thank you so much to all of the other creative professionals who made these features possible! Your work is always stunning and we are privileged to be able to work with all of you! We are so looking forward to each of your weddings this year being featured as well! Congrats to all of you amazing brides, and little ol' MBP!  
To see more of our Featured Publications, please visit our Press Page.  If you are interested in MBP photographing your wedding, please contact us at: info@melissabeckphotography or by heading up to our 'Contact Tab' above.
Melissa Beck
is a professional Wedding Photographer and Engagement Photographer who has been
featured
on several blogs and publications.
Melissa Beck Photography
is a Wedding Photography Studio specializing in Modern Wedding and Engagement photos in Maine, New England, Kennebunk, Portland, Freeport, Falmouth, Yarmouth, Cape Elizabeth, Denver,Colorado and the Rocky Mountains.
Contact
Melissa Beck Photography to be your Maine and Colorado Wedding Photographer today.