The Champagne is flowing, and laughter is filling the room. You have all of the most important ladies in your life surrounding you in your bridal suite and the gown of your dreams patiently waits under the garment bag from the bridal salon. Your make-up looks amazing, your hair is complete, and your accessories are on. The time has come to unveil your wedding dress. You carefully unzip the bag and lift out your gown. It is lightly wrapped in tissue paper and hung over a bodice form to keep the shape… You hang it on the beautiful door for your photographer to capture your dress before you begin to dress. Your photographer stops, taking in the beauty of your dress. The way the light is hitting the lace and beading. How the layers are hanging, where to position it for your photographs…
And then it happens. Amongst all this beauty, sticking out like a sore thumb is the clear plastic hanger that the bridal salon so graciously included in your [possibly] thousand(s) of dollar purchase of your dream wedding dress.
It happens all of the time. So if you are reading this cringing becasue you too forgot this element for your wedding, you are not alone. I repeat You.Are.Not.Alone. You have been planning your wedding for a good 6-12 months already, and now that the day is upon you, as you load up your dream day in your car, all of the element begin to get clutter. Dress? Check. Shoes? Check. Veil? Check. You have it all. Your dress is safe in your garment bag, and it is already on an hanger. So what's all the fuss?
Often times we [photographers] LOVE (really really love) to photograph your details through out your wedding day. Your dress included. We think about the way the light will hit it, where to hang it to show off the best features that you fell in love with, the back, the lace, the beading, the train, the corset… All of those elements are planned out. Is it placed on a picture frame, or the door? The closet door or entry? Indoors or out? These little details flow through our minds for every image we create. Wedding dress included. And to be honest, I can't begin to tell you how many clear plastic hangers I have photographed in my life of weddings.
Today, you get my plea to save your dress images from the doom of the plastic hanger. There are so many wonderful and creative dress hanger options out there. Head over to Esty. When you type in 'Personalized Hangers' there are 7,553 items to view. The options are endless is you are looking to take it up a notch in the hanger fashion, however just a simple plain wood hanger will suit your dress [and photos] perfectly.
Here are a few things to remember when choosing your hanger:
The weight of your dress. Wedding gowns have multiple layers and fabrics that can be very heavy. You don't want your hanger to not properly support your dress.
The notches. This is very important. Often times, we will borrow a hanger from the hotel or venue closet. Which most time works out fine. However, 9/10 times these hangers are not meant for thin straps, or have the little notch down (you know what I mean?!) to place  your hanging straps on your dress. This create panic for us [photographers] Do we risk the great hanger and your dress falling off and hitting the floor? Just sayin'…
Your groom. Let's be honest that Mens Warehouse or Tux rental hanger isn't doing anyone any favors either. Almost just as much time and thought went into the selection of his wedding day attire.
Your attendants. Your Bridesmaids, Groomsmen, mothers and fathers will all be looking just as sharp. Often time they are even getting ready with you. This can make for some great images of everyone's attire hanging together.
Check out some of the few that caught our eye when searching. Happy hanger shopping!
-MB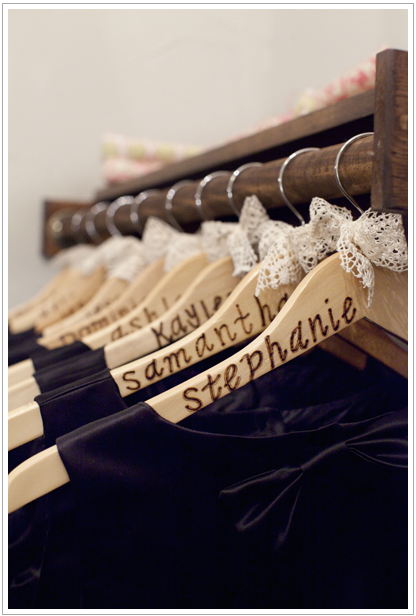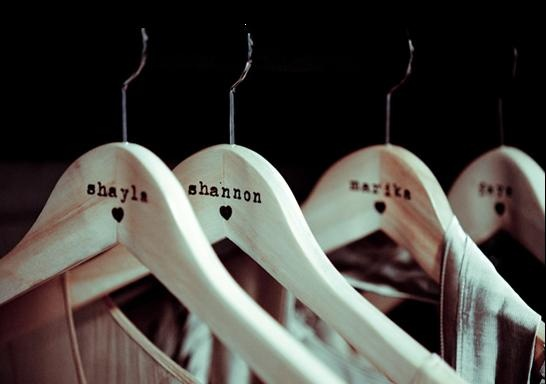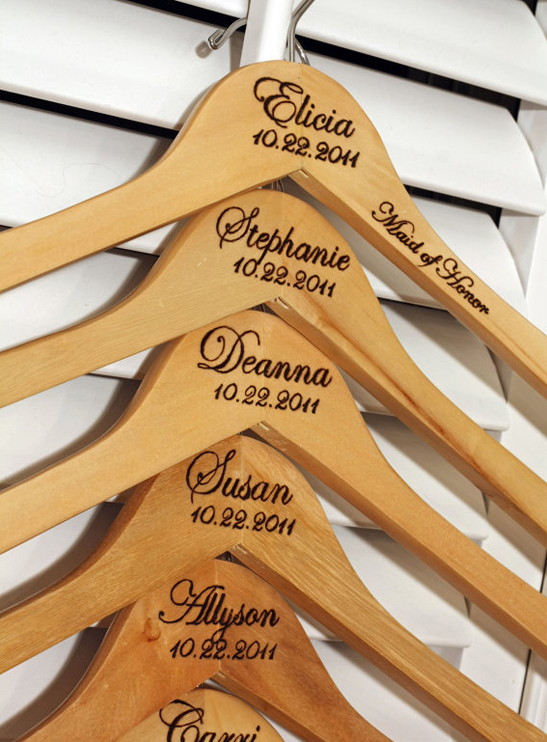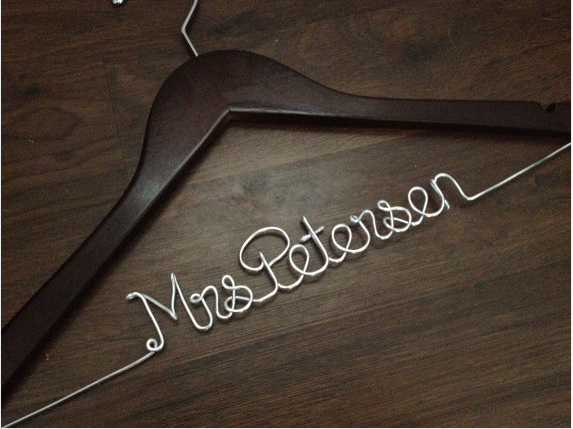 Image credits: 1. Wedding Chicks 2. Gracie Lou Events 3. Wedding Bells 4. Deighan Designs.
Melissa Beck
is a professional Wedding Photographer and Engagement Photographer who has been
featured
on several blogs and publications.
Melissa Beck Photography
is a Wedding Photography Studio specializing in Modern Wedding and Engagement photos in Maine, New England, Kennebunk, Portland, Freeport, Falmouth, Yarmouth, Cape Elizabeth, Denver,Colorado and the Rocky Mountains.
Contact
Melissa Beck Photography to be your Maine and Colorado Wedding Photographer today.